News
The Italian team wins one gold and two silver medals
20_02_2011 World Ski Mountaineering takes on a light blue tinge.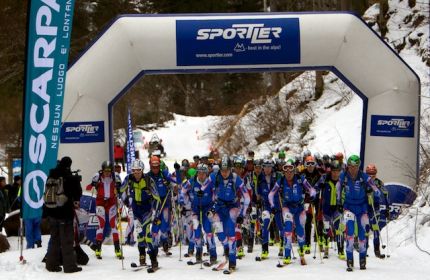 Matteo Eydallin and Denis Trento are the new ski mountaineering world champions.
This morning on the snow of Claut, Valcellina (Province of Pordenone) the first Ski Mountaineering World Championship race has taken place; the Championship trail had a difference in uphill altitude well over two thousand meters.
The technical and snow-covered trail, thanks to the night-time work of tens of volunteers, ended in the very heart of Claut, right under the church's bell tower.
Manfred Reichegger and Lorenzo Holzknecht came third at the finish line but managed, thanks to the penalty given to the French team, to make it to the second sport on the podium. Pietro Lanfranchi and Damiano Lenzi, thanks to a very smart and sensible race managed to finish fourth.
As for the women's race, Roberta Pedranzini and Francesca Martinelli could do nothing against the top form of Swiss athletes Nathalie Etzensperger and Marie Troillet. The Swiss ended the race in 3.05.52. To complete the podium, the other Swiss team members Gabrielle Magnenat and Severine Pont Combe. The outstanding race of Corinne Clos and Martina Valmassoim who came fifth at the finish line, should also be pointed out.
The two Azzurri were at the lead for the entire race, and little before the finish line they were passed by French athletes Wiliam Bon Mardion and Didier Blanc. It was only after a complaint filed by the Italian trainer Oscar Angeloni due to an instance of irregularity by the French on the last uphill stretch, that restore the gold medal that brought the Italian team on the top of the world.
Wiliam Bon Mardion and Didier Blanc, on the downhill slope that leads to the last short uphill stretch towards the Claut square, did not take off their skis and proceed on foot, which they were obliged to do. After a few hours of deliberation the International jury assigned the French a three-minute penalty that relegated them from first to third place.
The Ski Mountaineering World Championship, to close next Friday, were visited in their first two days by a delegation from the IOC led by Manuela Di Centa, in order to evaluate the inclusion of ski mountaineering among the set of Olympic sports.
Tomorrow the world championship schedule has in store the junior and cadet class races. The prospects of ski mountaineering will race on a trail with a difference in altitude of about a thousand meters, broken down into four uphill stretches.

Women's table 1. Nathalie Etzensperger, Marie Troillet, SUI, 3.05.52; 2. Roberta Pedranzini, Francesca Martinelli, ITA 3.11.54.

Men's table 1. Matteo Eydallin, Denis Trento, ITA, 2.32.34; 2. Manfred Reichegger, Lorenzo Holzknecht, ITA, 2.32.35; 3. William Bon Mardion, Didier Blanc, FRA, 2.32.52.


---
Archivio news »
---
HIGHLIGHT NEWS
From tomorrow THURSADY 7th will be available on this web site more information about the race!
more news
---
---