Mountaineering and ski mountaineering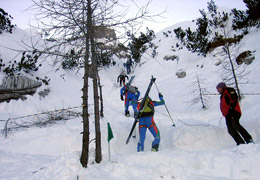 Anyone who knows something about mountaineering and its environment will certainly know about the Alps and activities in Alta Valcellina. In the history of mountaineering and its technical-philosophical evolution, between the end of '800 and for all '900, especially with regard to climbing on Eastern and Giulie Alps, Alta Valcellina played a very important role. In fact these places directly and deeply experienced the three historical stage of mountaineering development.
The first stage, Exploratory Mountaineering, involved famous mountaineers, geographers and geologists, not only Italian but also Austrian and German, for either geographical or military interest, who were guided by local guides or from guides from the upper valley of Piave.

During the second stage, that took place in the beginning of '900, through the two wars until the post-war, skilled and very strong Italian and foreign mountaineers put themselves to test on the walls and the sides of our valleys. Among the many Italians we mention: Cozzi, Zanutti, Gervasutti, Carlesso, Comici, Cozzolino etc. In the end of '900 also Valcellina developed "Research mountaineering": cliffs, walls and absolute run to the "limit" made places like Claut, Cimolais and Erto-Casso known also to people like Manolo, Mariacher, Jovane etc. and in winter also to Giancarlo Grassi that opened interesting and difficult itineraries on ice together with Mauro Corona. Mountaineering activities have been and still are performed by local mountaineers that start new routes, not only for sport but also for exploratory interest.

Differently from century-old mountaineering, Alpine skiing in Valcellina started later, at the beginning of the '70s. It grew strongly in the '80s.The use of skies at that time was limited to snowy valley floors and, sometimes, people got closer to the walls, although sometimes this was difficult due to snow conditions and orographic irregularities.

The turning point for the development of Alpine skiing came from some members of the local CAI Section and above all from Stazione del CNSAS – Alta Valcellina and its members. In the '90s, people wanted to discover this landscape better: rough but fascinating areas, steep and wooded mountain sides, steep canyons, not very accessible in the summer, in winter they become fairy-tale places, that reward with skiing adventures: not only a beautiful landscape but also physical-mental and technical experiences.

Alpine skiing is one of the most beautiful activities that villagers of Valcellina mountains can practice in winter. With regard to Claut, the most beautiful area, the easiest to reach, is Ressetum. Let's not forget the Val di Senons and Mount Dosain that especially in spring, offer excellent Alpine skiing sceneries. Val Cimoliana, in winter and in spring (easier and with less difficulties), offers several excursions on fresh snow. Beautiful trips that plunge us towards the valley across slopes, spires and untouched woods. Last, but not least, also in the Municipality of Erto-Casso the most demanding mountaineer can enjoy wonderful emotions. Mount Lodina, Mount Buscada, Mount Borga', Mount Porgeit and Casera Galvana offer beautiful and challenging climbs, energetic slopes surrounded by breath-taking landscapes.
Discover Valcellina »
HIGHLIGHT NEWS
From tomorrow THURSADY 7th will be available on this web site more information about the race!
more news
---
---