Claut: a place to discover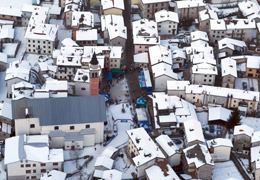 CLAUT: clausum. Up there, at the top of Valcellina, surrounded by the mountains in the shade of century-old forests, repaired by snowy tops, lookout for a little group of houses with small courtyards which are still alive thanks to the voices of children playing despite the cold, the snow or the summer heat.
CLAUT: the pearl of Valcellina, not accidentally located "ad hoc" in a valley where noise, crazy entertainment or any other kind of oddities do not develop since the soil is fertile only for other types of pleasant leisure. The pleasure that requires tiredness, efforts, love for nature that gives something back to you only if you approach it gently to protect it, look after it: open yourself to nature in order to see beyond and above easy and limited horizons.

Claut offers itself as a box to open, to observe along the trails that have to be kept clean, the underwood to air, the winter ski slopes to mark with care, technique and preparation; the huts and shelters not to damage; the handicraft (wood working, "scarpèth" production, milk processing) to be handed over to the next generations; the culture (the museum of clautana traditional houses, the timber floating, coal, lime, water mills, wood cutting, the "mugolio") to propose and learn since these are the things that kept this village alive; and religious events (processions, the Holy Friday, the participation in mourning, the warmth of Christmas). These aspects will not attract the insensitive and the sloppy person, the "I want it all now" person; in order to catch these things you need feelings that go beyond appearances and easy fun.
This is why Claut villagers that are deeply rooted in their valley join many associations, bringing their physical and intellectual contribution in order to give more value to all these aspects that have offered and will continue to offer to Claut a unique and pure mountain value, a clean value, where strangers, holiday-makers with few but selective demands, the commuting teacher or (as it has happened for some time now) the city-person that want to experience an original life even just for the weekends, can find happiness. That happiness that makes us walk under the falling snow wrapped in the silence of wishes that may come true.
Discover Valcellina »
HIGHLIGHT NEWS
From tomorrow THURSADY 7th will be available on this web site more information about the race!
more news
---
---