News
Claut 2011in Alpago
0470272011 A Claut 2011 delegation to visit Tambre for the World Cup.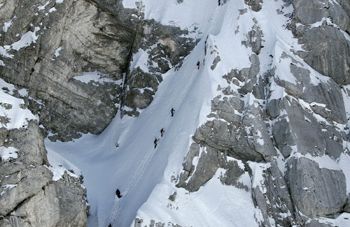 A mere two weeks shy of the Ski Mountaineering World Championship and the organizational life of the Claut 2011 Committee becomes busier and busier by the day with daily commitments, meetings with the institutions, operating briefings with the volunteers, race track inspections and presence in the most important ongoing sports events.
The Claut 2011 Ski Mountaineering World Championship will be formally presented to foreign delegations during the technical brief to be held this evening in Tambre, together with the promotional video that will outline the race programme scheduled between February 18 and 25.
On Saturday afternoon, during the World Championship prize-giving ceremony, it will be possible to purchase all World Championship-branded merchandise at the "casa Claut 2011".
"We are about to get into the thick of the organizing effort – says Sergio Buricelli, technical supervisor for the World Championship – everything is falling in line with our expectations; unfortunately we are having some snow-related issues on the Claut plateau, whereas at higher altitude the snow layer is perfect, abundant, well compacted and properly steady. Right now we are thinking of moving the relay and sprint races also to Piancavallo".
In the meanwhile the village of Claut and Valcellina as a whole are getting ready for the world-class event that will drive into the valley thousands of sport, and more specifically ski mountaineering, fans. The resonance of such a prominent event will certainly bring great opportunities for alternative sport tourism to flourish, by giving a new face to the Italian Alpine range which is not only perfectly suited for large facilities and mass tourism, but is also determined to cater for alternative activities for all, aimed at preservation and sustainable social and economic development.
It is right here, in a natural setting, perfectly suited for an alternative tourism and sports offer highly integrated in the environment, that the food and wine culture of Friuli Venezia Giulia, a hospitable and tradition-rich land, will be promoted. It is in the organizer's intentions to turn this into the added value of the event.

---
Archivio news »
---
HIGHLIGHT NEWS
From tomorrow THURSADY 7th will be available on this web site more information about the race!
more news
---
---