Pradut Alpine skiing area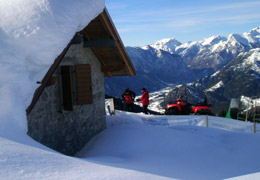 Geographical location
Ressetům ridge, 12 km long, develops along Alta Valcellina in the south of Claut, east-west direction. Its southern side, steep and vertical on the top, is well visible from the Pordenone plain. The northern side, instead, degrades more sweetly towards Claut valley and, due to its exposure and slopes, it is more suitable for winter activities. In order to access the most interesting area from this point of view, go approximately 2.5 km after Claut village until you reach the little and atmospheric borough of Lésis (locally known as "Stok"). From here you cross the historical bridge Ponte degli Alpini, go through Cellina and immediately reach the comfortable car park, the main starting point for the climb up to Casera Pradůt. There is a large car park also shortly before the bridge.

A short history of Alpine skiing
In the past only few people from the valley used to go to Pradůt. They used to do excursions on foot or with snowshoes. They rarely cared about the huts. More often they went in spring to hunt moor cocks and capercaillies between the night and the sunrise, fascinated but scared. More recently few lovers of lonely environments started going there for sporadic alpine excursions.
Exhausting walks in the deep snow. Nights in the open walking towards the shelter. Parties and endless New Year's eves and shaking legs the morning after. Peaks and crossings without skies with the snow up to the belly, with naked knees uncovered by the usual wet moleskin knickerbockers and then hardened by the freeze. Somebody dared wear old wood and cord snowshoes, very efficient when it came to walk in the deep snow. Army snow boots (gaiters) with thousands of strings and knots and leather boots drowned in grease but proudly indifferent to change of season and fashion. In the '70s a nice tradition started: few slope skiing lovers started going there. There was no road yet; they would carry their skies on top of their shoulders and then down with the skies until it was possible. Actually they usually ended up in the valley, but nevertheless it was always a good chance for a happy meeting in the casera with drinks and taraxacum collection. For many years this meeting took place on 1st May. During the following decade Alpine skiing was born and developed with a specific year of reference: 1991, when the first Alpine-skiing meeting took place in Pradůt. A joyful meeting that takes place every spring, on the first Sunday of April, gathering those who love these places, their air, this atmosphere of lightness. And every year it is surprising to see that enthusiasm continues and grows. In 2005 the first competition: a stage of Coppia Italia, Alpine skiing in pairs. During the organizational stage new routes were discovered, previously unknown and unimaginable. Hidden edges and basins. Unforeseeable depressions and dolines. New perspectives for those who want to look ahead. A little paradise, fortunately hidden and that will probably remain hidden because many people want so. It is not for sale but only on gratuitous loan for those who pass the natural selection. For those who, every morning, will have the chance to do and see nice things. New, different, small but many nice things. In 2005 the first shy attempt to organize the area was made. Casera Pradůt was open for a few weekends with the possibility to stay and eat in the house or in igloos. The transport to the top is organized by a priceless snow cat, helped by a motor sleigh made available by the municipal administration. The snowy slope in the forest is regularly beaten and milled by the snow cat in order to make it perfectly accessible to skiers, particularly going downward. This initiative is particularly appreciated by all attendees for its low impact and great efficacy. The access to the highest and most interesting part of the itineraries is therefore guaranteed and reachable by more people, although it is still subject to natural selection and environmental impact control. We hope that the sad abandonment of the traditional migration to mountain pastures after the last malghese del Pradůt (Mino de la lastra "sgrifa") can be duly replaced by a discreet and environmental activity that allows to have human presence in these areas with the same simplicity and modesty of those that lived in these places for centuries.
"Don't drive the spirits of the mountain out of their house. On tiptoes. Don't call them, but listen. And don't disturb their peaceful order. They will be grateful and compensate you"*
Julius Kugy – From the Life of an Alpine Climber (unofficial translation)
Characteristics of the environment
Winter excursions with the skies or snowshoes in this area are dominated by a really special characteristic: short distances high up on the mountains determine sudden and pleasant changes of landscape, which rarely occurs in other mountain areas. It is a bit like visiting a big exhibition with many rooms. At each step you discover a new room: always new and unexpected drawings and perspectives. Alpine skiing excursions on other mountains often take place in beautiful environments but quite monotonous and even more uniform in winter. Here, at every step, there is something new that impresses even the layman. It is a continuous game of little details, even if it takes place in quite a large environment. There are many routes which are little known but very rewarding, if explored at the right time. Sometimes there are little deviations, but it is worth going there. Unthinkable depressions, sinkholes, hidden slopes, little valleys, daring and rounded shapes that suddenly raise the snow level; a continuous, pleasant surprise, this is the main pride of this land in winter. The micro-landscape and the look of the places that constantly change at every ski movement. The snowing characteristics, the accessibility, marked itineraries and maintenance of trails make this area the ideal spot also for sky-runners. The always beaten forest slope is the ideal for an easy and funny downhill, while the uphill possibilities, excellent for training (the Classic) are always excellently marked. In fact over the past few years the number of "sky-runners" has increased consistently but their activity seems not to interfere with the interests and the more peaceful rhythm of more traditional excursionists. Another nice option, to be taken with caution and care, is the sledge downhill along the forest slope, although the slope is not designed or maintained for this purpose, so everybody will take his/her own risk. Of course this comment applies to all sport activities performed in a non-protected natural environment, which is not equipped or controlled.
Casera Pradut (1.435m)
It is the reference centre for most trips, activities and the highest point of arrival with mechanical means. Offering basic reception facilities, it has an emergency room which is always open and it runs on winter weekends and during winter festivities. Possibility of overnight stays and kitchen. It is always advisable to check availability. In 2011 a little shelter next door will be built in order to improve its accommodation capacity. Transport to the casera is usually done by mechanical means (4x4 and snow cat) at fixed times or on reservation. This allows untrained people to reach the most interesting spots at high altitude. In fact, in order to reach Casera Pradůt it is necessary to travel 800 m drop in the forest.
Discover Valcellina »
HIGHLIGHT NEWS
From tomorrow THURSADY 7th will be available on this web site more information about the race!
more news
---
---